iPhone camera apps for shooting in RAW
Introduction
Your iPhone comes with the iPhone Camera app that is well-organized and user-friendly. You have all the functionalities in one place and you can start the app in many ways; even without first unlocking your iPhone. The two main reasons for me to install other Camera apps are:
With the iPhone Camera app you can not make RAW photos.
You can not set the shutter speed and the ISO value.
Camera apps
There are many camera apps for the iPhone in the App Store. The camera apps that I have installed for shooting in RAW are Manual, Camera+ and ProCamera. Lightroom CC Mobile can also make RAW photos, but I mainly use this app for editing. For specific purposes I have Slow Shutter Cam (long exposure) and Cortex Cam (Nightphotography). If you start with camera apps, you soon have multiple apps on your iPhone. Once you think you have found the perfect app, then that one function is often missing. The disadvantage of different camera apps is that you get too little experience with it. While taking photos, I therefore often have to search in the different menus. That's why I decided to use ProCamera as my standard RAW camera app.
Make ProCamera quickly accessible
For starters, it is important that you can start ProCamera quickly so as not to miss a moment. To quickly open ProCamera, I added the app to the Today View.
You can open ProCamera in the following ways
1. Add the camera app as a Widget to the Today View, so that you can start ProCamera after you swipe right over the Home screen or Lock screen. To add the widget, tap "change" in the day view. Unfortunately, not all apps have a widget.
​
| | |
| --- | --- |
| Start the app in the Today View. | Add a Widget to the Today View. |
2. From the Home screen (iPhone 6s and later) with 3D Touch. For 3D Touch you keep pressing the app icon until a screen with shortcuts appears, so you can choose in which mode you want to start ProCamera.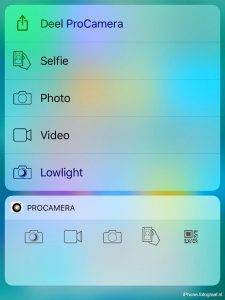 3. Place the Camera app ProCamera in the Dock. The Dock is the bar at the bottom of your screen with space for four apps. You first drag an app away and then you can add the Camera app.
ProCamera
ProCamera has different modes between which you can easily switch. Of the standard available modes, I use the Photo and Lowlight modes. I do not need the Video, Selfie and Scan modes, because I prefer to use the iPhone Camera app for those functions. I removed these modes from the Camera Mode Selector, so that the app is easier to use and I can quickly switch between the Photo and Lowlight modes. This blog I wrote about photographing movement with the Lowlight Mode.
In the Photo mode (1st image) and Lowlight mode (2nd image) with RAW as the file format I use these functions:
Rapid Fire Mode in which you can continuously and quickly take photos in RAW by holding down the shutter button.
F/E Lock with which you can hold the exposure and focus points.
Grid views that help you determine your composition.
Auto exposure or Shutter-ISO-priority.
Anti-Shake that helps you to make vibration-free photos. Especially recommended for RAW.
Shutter speed buttons (Lowlight mode).
The function that I'm missing is bracketing, which enables you to take multiple photos with different exposures in quick succession. You can then choose the best exposed photo afterwards.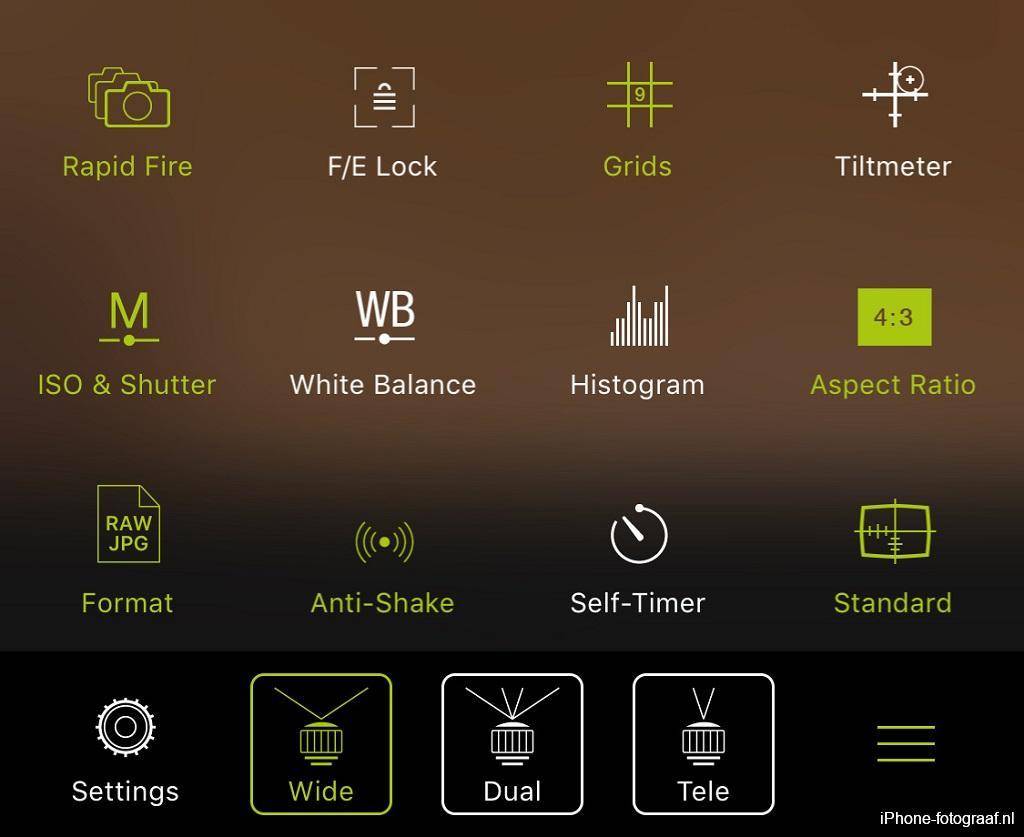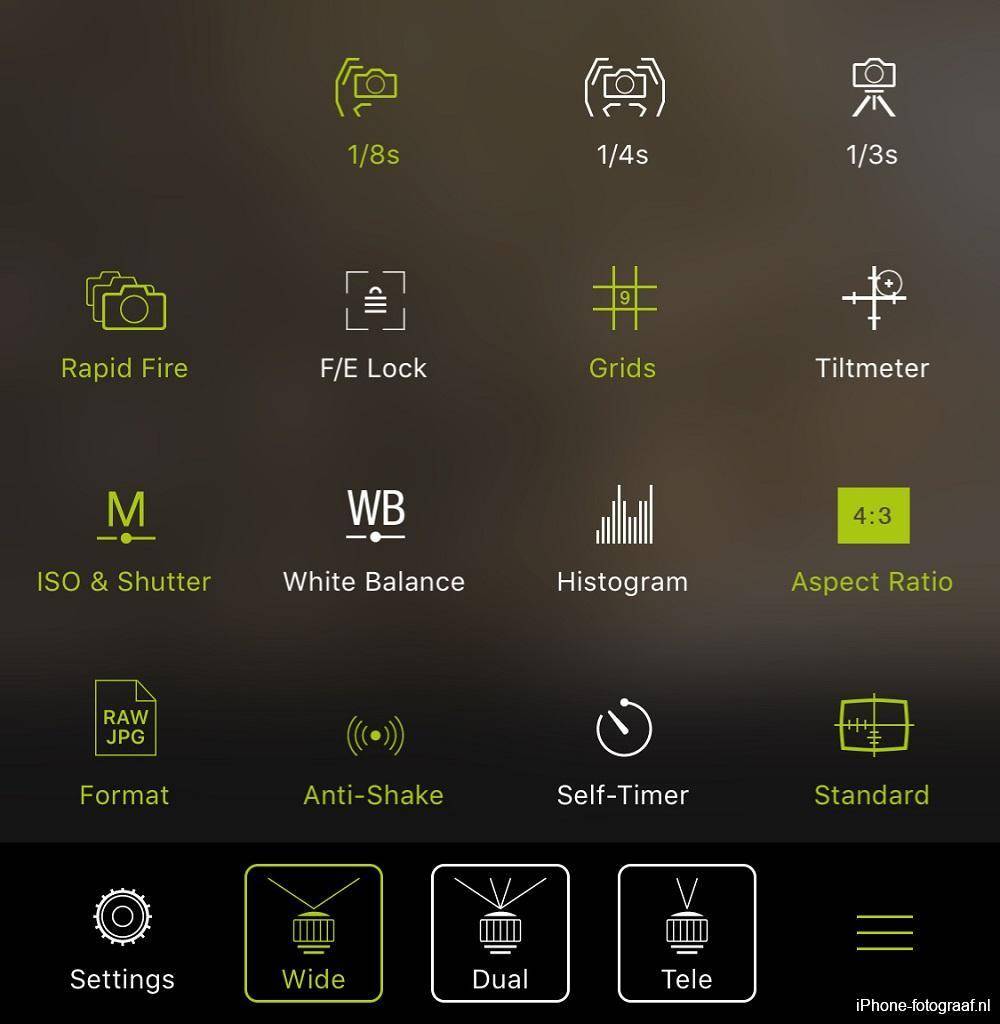 RAW
If you take RAW photos, the iOS image stabilization system and digital zoom are not available. You can optically zoom on iPhones with a double camera with the 1x and 2x buttons. Also the optical stabilization of my iPhone 8 Plus is not available when I make RAW photos. ProCamera has an Anti-Shake function that works with the RAW file format.
Focusing and exposing with ProCamera
Conclusion
I have been using ProCamera for some time now and so far I like it. The software is easy to use and I hope that in a later version bracketing becomes available in the Photo mode.
Downloads
Manual (App Store),
Camera+ (App Store)
ProCamera (App Store).
Lightroom CC (App Store)
Read also my blog about HDR iPhone photography or go to the overview with all iPhone photography blogs.