My favorite and free photo editing apps for the iPhone are Adobe Lightroom CC Mobile and Snapseed. Lightroom is a camera-app and editing app and can be downloaded for free. You need a subscription for the Premium functions. Snapseed is from Google and free. With both apps you can edit both JPG and RAW photos.
Edit raw photos with Lightroom CC Mobile
Photos taken with the Lightroom camera are stored in the app. To edit other photos, you must first import them. During the import you can automatically add copyright data and apply lens corrections. To group photos you can create folders and albums. New photos in your iPhone's photo library can automatically be imported into an album.
View photos
You can sort photos by Capture Date, Import Date and Modified Date. With Segmentation the photos are filtered by Years, Months, Days, Hour, Flags, Star Ratings and File Types. Photos are displayed in overviews with the File Type, Flags and Ratings, Photo Info or Exif info. You can filter on Star Ratings, Flags, Type, Keyword or Edited. You can show or hide Photo info and the Histogram of an opened photo.
Short video about The Histogram
The free iPhone photo editing functions to edit raw photos
Crop
With Crop & Rotate, the Aspect Ratio is adjustable. You can automatically or manually Straighten, Rotate, and Flip the photo.
Video Cropping and Straightening Photos
Edit raw photos with profiles
Profiles are filters and subdivided into different categories. The intensity can be adjusted with a slider. If you apply a profile then all photo editing settings remain unchanged. A number of profiles are only available for RAW.
Video How to use Profiles
Edit raw photos with Auto
The optimum settings for exposure and color are set automatically. Tap Light or Color to change the automatically made settings and white balance.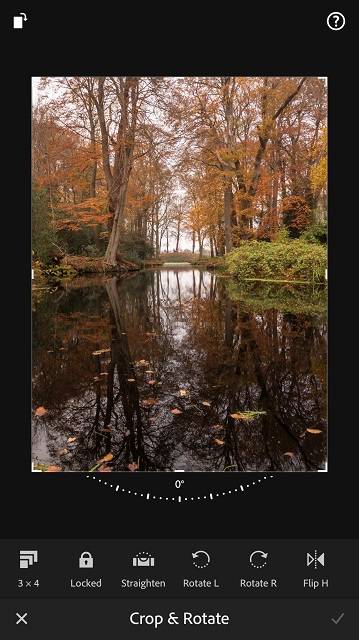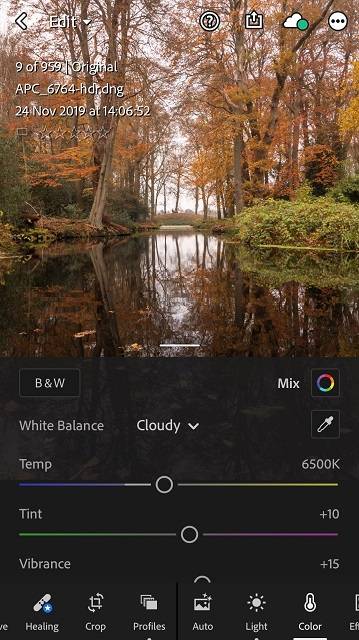 Edit raw photos in Lightroom video: The Color Section
Edit raw photos in Lightroom video: The Light Section
Effects
Accentuate details, adjust clarity, dehaze, add a vignette and grain.
Edit raw photos in Lightroom Video: The Effects and Optics sections
Detail
Sharpen the photo and remove noise.
Optics
Remove Chromatic Aberration and enable Lens Corrections.
Presets
Select a preset from a number of categories to change all sliders. You can save the settings that you have made yourself as a new preset.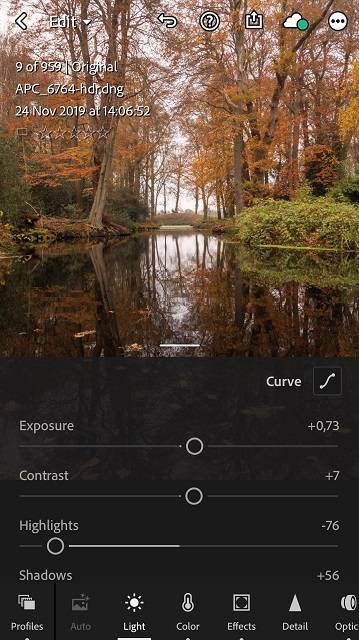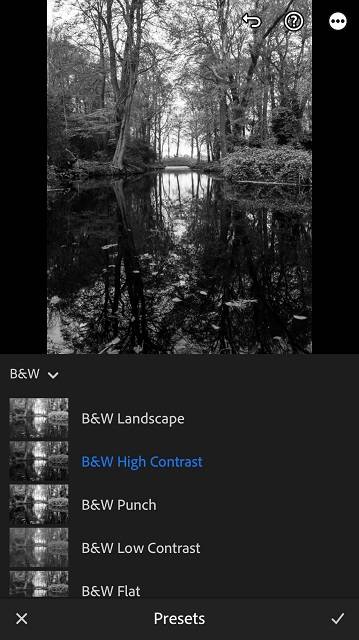 Video How to create Presets
Premium functions in Lightroom Mobile to edit raw photos
The functions Selective, Healing and Geometry are not free and you can try them out with a trial version. Photos and changes can be synchronized between Lightroom mobile and Lightroom on the desktop with a subscription to Creative Cloud.
Justin Odisho has made a video of the free iPhone photo editing functions
Edit raw photos with Snapseed
Snapseed is from Google and free. The software contains many useful tools and filters that are selectively applicable in most cases. The software contains the following functions and filters.
Looks
A number of editing steps are carried out automatically and you can then adjust them per step. Steps can be added or deleted.
Tune Image
Brightness, contrast, saturation, ambiance, highlights, shadows and warmth are adjustable.
Details
Accentuate details and sharpen the photo.
Curves
Including a number of presets.
White Balance
Automatic white balance, temperature and tint. For RAW photos, white balance presets such as automatic, sunny, etc. are available.
Crop
The aspect ratio is adjustable.
Rotate
Rotate, mirror and straighten.
Perspective
Correct distortions and straighten buildings that lean backwards.
Expand
Make the image larger.
Selective photo editing
Change the brightness, contrast, saturation, and structure for a selected area.
Brush
Adjust the brightness and colors of a selected area with dodge and burn, exposure, temperature and saturation.
Healing
Remove stains with retouching.
HDR emulation
A number of filters with which shadows and highlights are made lighter and darker respectively. The video below demonstrates how you can selectively apply the HDR filter.
Tonal Contrast
Set the contrast of high tones, midtones and low tones.
Extra filters
Glamour Glow, Drama, Vintage, Retrolux and Grunge.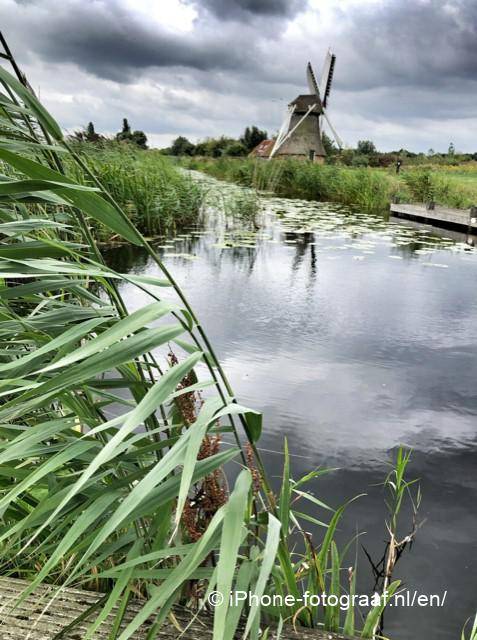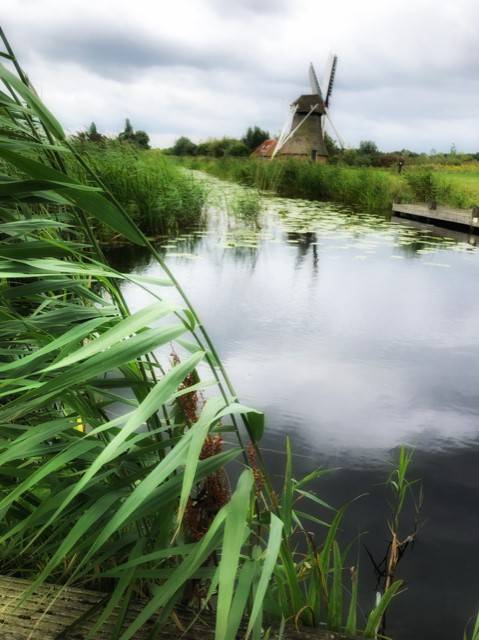 Grainy Film
Add grain manually or with presets.
Black & White photo editing
Convert a photo to black and white with presets and the filters red, orange, yellow, green and blue.
Portrait
Settings and filters for a smooth skin, clear eyes and an optimally exposed face.
Head pose
Increase the pupil size, smile and focal length.
Lens Blur
Make parts of the photo out of focus and darker to emphasize the subject.
Double exposure
Open two photos and adjust the transparency of the top photo, so that you can, for example, replace the sky.
Additional
Add text and frames.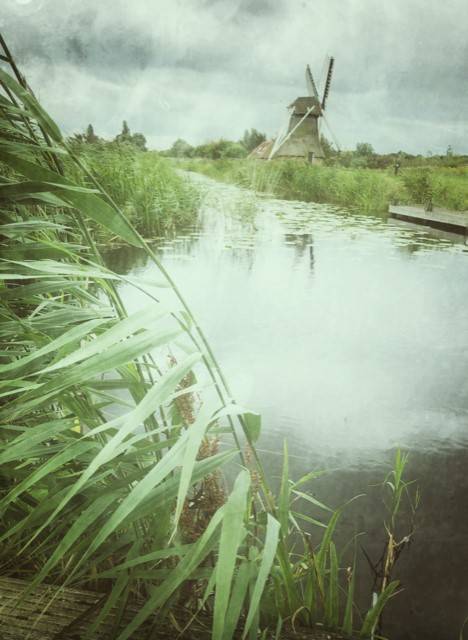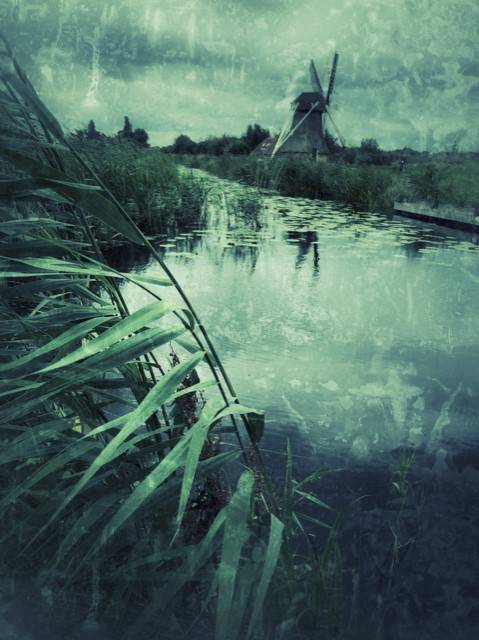 My edit raw photos workflow
With the Lightroom CC Mobile app I shoot in RAW and HDR RAW. I edit the photos with the function Auto, so that the exposure and colors are optimally adjusted. Sometimes I correct the result, but mostly I am satisfied with the app's choices. With Detail I make the pictures a bit sharper and, if necessary, I remove the noise. I enable the options Remove Chromatic Aberration and Lens Corrections and then I export the photo as a JPG with Share or Save to Camera Roll. Then I open the photo in Snapseed to increase the saturation of the colors and to apply filters. Finally I add a vignette.
Conclusion about apps to edit raw photos
Both apps are user-friendly, versatile apps with which you can also edit RAW photos. You can adjust and delete the photo edits you made and they will only become definitive in the exported photo. Lightroom CC Mobile is also a RAW camera app and the free version has powerful editing tools for automatic settings, lens corrections and noise reduction. With Snapseed you can edit selectively and you have many filters and handy tools at your disposal, such as Double exposure, Healing and Perspective. I made a tutorial with step-by-step instructions and videos for Snapseed.
If you shoot with the iPhone camera app, then with Snapseed you have a very complete and user-friendly free photo editing app. When shooting in RAW, you can use Lightroom CC Mobile as a camera app and free photo editing app and add Snapseed to your workflow for the missing functions.
Download apps to edit raw photos
Adobe Lightroom CC Mobile App Store
Snapseed App Store
Also read my blog about black and white photography or go to the overview with all iPhone photography blogs.
Recommended for you